<![if !vml]>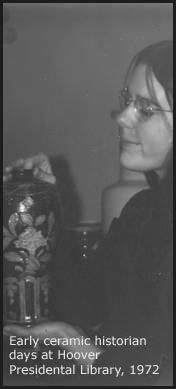 <![endif]>
<![if !supportEmptyParas]> <![endif]>
<![if !supportEmptyParas]> <![endif]>
Margaret Carney is a specialist in world ceramics, with a Ph.D. in Asian art history. She has experience teaching, lecturing and curating exhibitions at universities, museums, galleries, and international expositions.
<![if !supportEmptyParas]> <![endif]>
"Someone recently referred to me as her 'own ceramic historian.' I liked that idea. Sort of like a traveling expert or paid specialist in the field of ceramic history."
<![if !supportEmptyParas]> <![endif]>
Have you ever wanted your own ceramic historian?
Here's all you have to do to have your own ceramic art historian: email, phone, fax, text message, or yodel; provide funds for travel, lodging, meals and an honorarium.
<![if !supportEmptyParas]> <![endif]>
How to best utilize your ceramic historian: for jurying art exhibits, festivals and fairs, teaching courses in world ceramic history, Chinese ceramics, or museum studies, lecturing (single lecture or series of lectures) on topics such as world ceramic history, archaeology, connoisseurship of Chinese ceramics, Art Pottery, dinnerware, lithophanes, guest curating special exhibitions, consulting for universities, museums, ceramic industry, or artists, appraising collections, designing exhibition catalogues and exhibit announcements, writing journal or catalogue essays about individual artists or companies.
<![if !supportEmptyParas]> <![endif]>
<![if !supportEmptyParas]> <![endif]>
<![if !supportEmptyParas]> <![endif]>
<![if !supportEmptyParas]> <![endif]>
Lectures
<![if !supportEmptyParas]> <![endif]>
Teaching
<![if !supportEmptyParas]> <![endif]>
Guest Curator
<![if !supportEmptyParas]> <![endif]>
Jurying Exhibits
<![if !supportEmptyParas]> <![endif]>
Consultant
<![if !supportEmptyParas]> <![endif]>
Appraisals
<![if !supportEmptyParas]> <![endif]>
Writing
<![if !supportEmptyParas]> <![endif]>
<![if !supportEmptyParas]> <![endif]>